As the landscape surrounding information technology (IT) continues to be ever more dynamic and consumer expectation grows more demanding, the ability to effectively budget and forecast IT needs has become pivotal for an organization's overall success.
Assessing and preparing your organization for the next wave of digital transformation can be the difference between your company and your competition. With that in mind, here we list 5 items that you should include in your IT budget.
1) Safeguarding IT Security
Making room for upgrade in IT security to keep out threats is a must. In a Forrester report from November 2017, nearly 50% of respondents businesses said that IT budgets were their primary barrier to building up their IoT security. What's more? Despite these statistics, another survey of over 600 global enterprises by ForeScout, 77% of organizations found that increased usage of connected devices and the internet of things (IoT) has given birth to new security challenges that need addressing.
Even more alarmingly, 82% of these companies failed to identify all the connected devices to their network, and could not give a clear answer when asked who is responsible for securing IT in their organization? You never know when you're left vulnerable, and who's poised to attack. Investing in IT security via a managed service provider (MSP) can be a viable option if you feel your internal team has other core competencies to focus on.
2) Moving to the Cloud
Public cloud adoption grew to a record 92% in 2018 from 89% in 2017, according to the annual cloud survey by RightScale in January 2018. Private cloud adoption also grew to 75% in 2018 from 72% in 2017.
Not only does moving to the cloud offer you the option of various pay-as-you-use schemes, you also don't have to invest in regularly upgrading expensive infrastructure, which greatly reduces your overall IT costs. If you're still waiting to jump on the bandwagon, you need to make room for moving to the cloud in your budget this year.
3) Assessing Your Infrastructure
Slow network speeds lead to frustration, and outdated machinery that are incompatible with the latest security patches are a threat to your IT security. Your IT budget must have room for aging equipment that must be replaced, either by upgrading the machinery or moving to the convenience of the cloud wherever possible.
4) Business Continuity and Disaster Recovery
Did you know you can lose millions in service outages each year? Despite numerous advances in technology, downtimes remain an expected risk for all businesses. You never know when the next tornado will hit, or when a faulty wiring will start a fire. Either way, mitigating these unaccountable risks by investing in a business continuity plan (BCP) will allow you to continue business as soon as possible after a disaster, and can ultimately decide the fate of your organization.
5) Bridging the Skills Gap
Per a recent CompTIA survey, around 40% of employees in IT complained that they're not getting adequate training they need to keep being effective in their roles. How can your IT department run efficiently if your employees don't know what makes the department efficient? Taking the time out to retrain your internal IT team to keep up with the latest advances, or partnering with a trusted third-party provider that can take care of your IT needs are ideal solutions to bridging the skill gap between the latest technologies and manpower.
As a growing small or medium sized enterprise it is not easy to effectively plan an IT budget. You have to be able to cover all the bases that can increase efficiency and focus on core competencies. This is why ProV International Inc., a premier global IT consulting and service delivery organization that delivers high-quality managed IT services for clients worldwide are preferred digital transformation partners for many SMBs.
At ProV, we use our global talent pool and best-in-class delivery models to assess your business requirements, and allow you to take advantage of all the latest technologies within your IT budget for a flexible fee. To learn more about how an able managed service provider (MSP) like ProV can give you a competitive advantage, download our Managed Services Checklist below, or contact us today.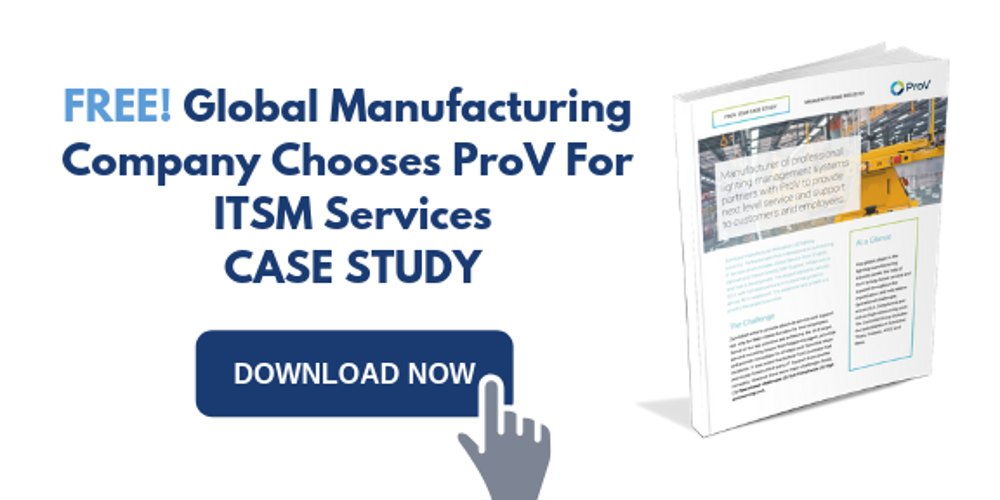 Share This Article