Service outages are a massive pain in the backside for a lot of companies. Not only do they cost you money in downtime, but your organizational reputation is also left in tatters. In today's age of process-driven agile workplaces and automated workflows, it is somewhat surprising that many enterprises still choose manual recovery options for these service outages. That is leaving it too late.
Can You Survive a Service Outage?
Service outages may be caused by various factors such as network errors, device configuration changes, human errors, power grid failures, server failure, denial of service (DoS) attacks, etc. A recent survey by USA Today of 200 datacenters reported that their downtime costs exceeded $50,000/hour in the least, and around $500,000/hour for critical processes. Dunn & Bradstreet produced another market survey stating that around 59% of Fortune 500 companies must deal with a minimum of 1.6 hours/week of service downtime. This would amount to around $896,000/week, or near $46 million/year in wasted revenue and employee costs. These are staggering numbers.
The question then becomes, can you afford these numbers? How much cash can your business burn to fix these outages?
The Art of Making 1 + 1 =3
Outages and downtime are a hassle that no company wants to deal with. Break-fix solutions are cost and labor intensive and provide no guarantees. The one thing every agile business needs today: availability. ServiceNow, the global enterprise service management pros, have come up with an all-in-one platform that leverages ground-breaking technologies and integration capabilities to provide you with more. They call it the "art of making 1 + 1 =3."
The Value in Merging ITOM & ITSM
Typically, IT operations management (ITOM) deals with all your internal IT infrastructure issues, while IT service management (ITSM) deals with your service delivery outcomes. Since IT is at the heart of almost all that your business does, it makes sense to align them together. By combining ITSM and ITOM, ServiceNow streamlines your business processes for maximum efficiency like never before.
ServiceNow ITOM + ITSM helps you solve the following challenges faced by your service delivery teams:
Multiple disjointed legacy systems
Longer time to resolution
Lack of accountability
Fading customer satisfaction
Lack of visibility
Loss of brand reputation
ServiceNow achieves this real-time visibility on the state of availability of every IT asset by:
360-degree view dashboard
Patented CMDB with SLA integration
Event management with performance analytics
Regular service health check-ups
Critical issue identification and notification
Incident Management from a single app
Real-time resource availability details
Auto assign issue to handler
Real-time chat option
By providing a cloud-first, service-centric, and centralized platform, ServiceNow solutions can help you reduce expenses, increase availability, and improve your time-to-market. Calibrating ServiceNow experiences with best-in-class implementation support is ProV's expertise. Our varied catalogue of delivery successes around the world have won us plaudits like the Stevie® Award for Sales & Customer Service. To learn more about how we help businesses like yours integrate ITOM and ITSM to achieve greater organizational efficiency, drop a comment below, or contact us today.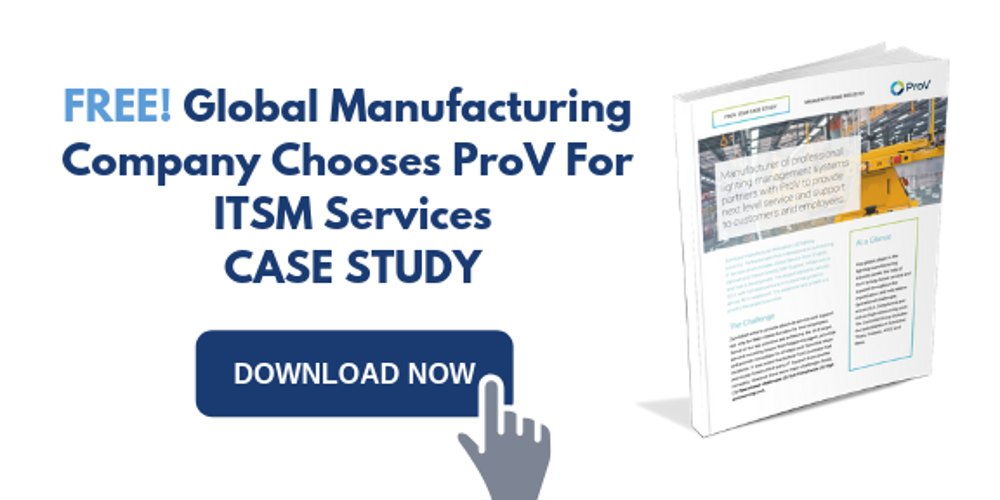 Share This Article