IT service management (ITSM) is the sum of processes that helps implement, manage, and deliver IT services to meet the business demands of an organization. ITSM encompasses an optimum mix of people, processes, and technology to provide value.
In this article, we will list a few of the most popular and useful ITSM tools that can help you streamline your business and increase productivity. While there are a lot of choices available today, your ideal ITSM tool should include features like problem and incident management, IT ticketing, and asset and license management.
Enterprise Ready ITSM Tools List
Below listed, are a few of the best scalable and multi-purpose ITSM tools available on the market today along with their features, to help you make an informed choice.
1) BMC Remedy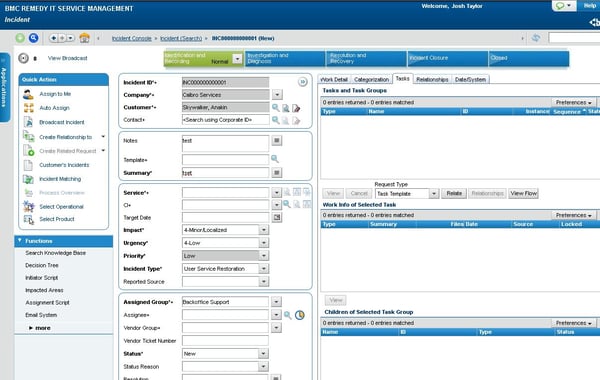 BMC Remedy is a digital enterprise management platform that has been built as a "mobile-first" unit for boosting productivity at the workplace. Being "mobile-first," the suite allows you to service multiple locations from multiple devices. Some of its core features include:
BMC Asset Management
BMC Change Management
BMC Knowledge Management
BMC Service Desk
BMC Service Request Management
BMC Service Level Management
BMC Remedy with Smart IT
BMC MyIT
BMC Remedy OnDemand Subscriber Information
2) Samanage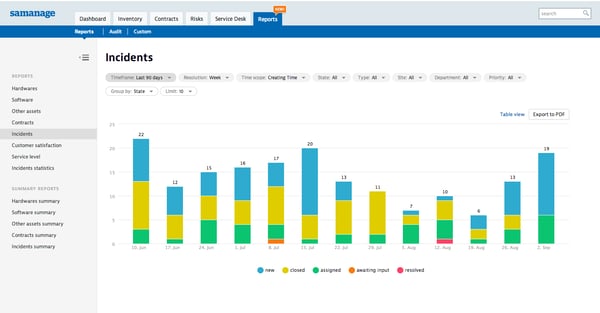 Samanage is a cloud-based IT service desk and asset management solution that helps enterprises monitor their IT assets and swiftly respond to internal service requests. The tool has been built on the Salesforce Service Cloud platform and connects multiple services within an enterprise and improves visibility for all users. Some of its core features include:
Automated Ticket Routing and Ticket Prioritization
Knowledge Base and Ticket Integration
Dashboards with Time Tracking
Mobile Ready and Self Service
Multi-Channel Access
3) Cherwell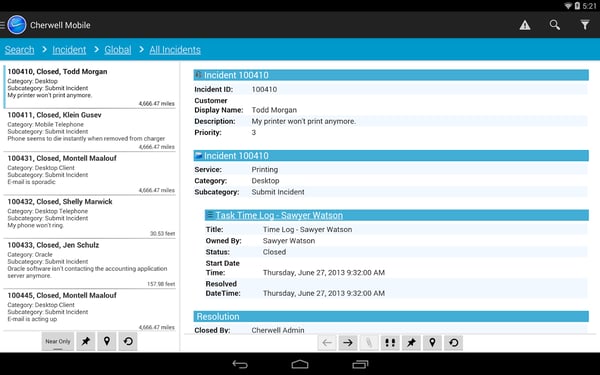 Cherwell provides flexible ITSM solutions, including on-premise and SaaS, and provides codeless integration capabilities that allows you to upgrade automatically without further adding to the workload of your IT department. Some of its core features include:
ITIL Processes
IT Service Desk and Self-Service Portal
Dashboards & Reporting
Service Integration and Management
Configuration Management Database (CMDB)
Application Dependency Mapping
4) SpiceWorks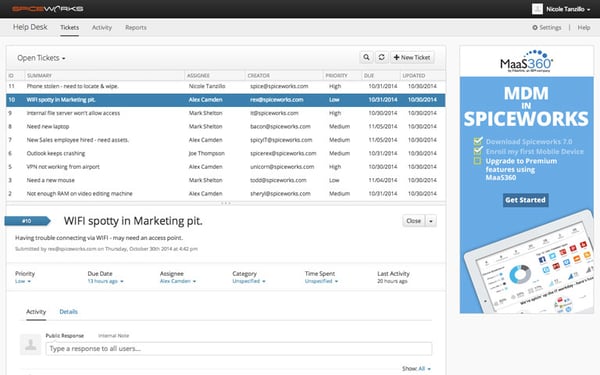 Spiceworks is a fully loaded project management software suite that does not adhere to ITIL guidelines but instead uses library modules to deliver a code of practice that improves IT efficiencies. You can download its individual tools and integrate them to build an interconnected ITSM solution. Some of its features are:
IT Asset Management

Self-service
Ticket Collaboration
Multi‐site Support
Active Directory and Knowledge Base
150+ Add‐on Apps
5) ServiceNow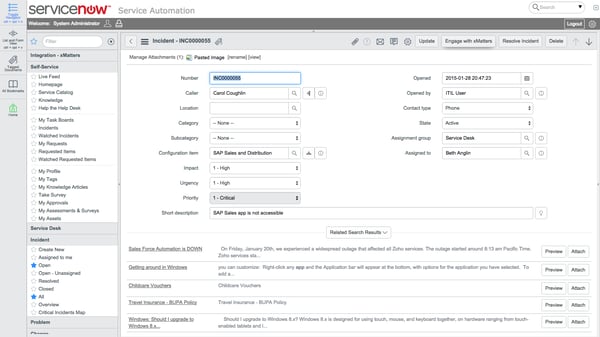 What is ServiceNow? ServiceNow is a cloud-only platform that provides enterprise service management tools for ITSM, IT operations management (ITOM) and IT business management (ITBM). It also has built-in integration capabilities for various other business functions like HR, Security, Customer Service, etc. Some of its best features are:
Automated Testing Framework
Application Development Support
Script Debuggers
Automated Ticket Routing
Application Portfolio Management
Financial Portfolio Management
Custom Business Apps Integration
Case Management Optimization
ProV is a global IT service delivery company and a one-stop shop for everything ServiceNow. We help clients with implementation, testing, support, quality assurance, and more, because we understand that simply buying a software licence is not enough. ProV has the expertise and ITSM tools to help to your organization leverage ITSM solutions and boost productivity and collect more ROI from your investment. To learn more about how we can simplify your IT needs drop a comment below or contact us today.
Share This Article