If you're looking to shore up your IT, but require some guidance into getting all the technology together up and running smoothly, then a managed IT service provider can be of immense benefit for you. By partnering with a managed service provider (MSP), your business can have instant access to infrastructure, support, and guidance without having to incur the cost of hiring internal staff for the same.
As modern businesses have evolved, so have their technology needs. The growth of a modern enterprise may not be able to sustain the growing cost of recruiting, training, and retaining the best IT talent, along with the added cost of upgrading infrastructure every now and again. This has led to the huge growth of managed service providers, wherein according to research by Service Type, the managed services market is projected to grow from $152.45 billion in 2017 to $257.84 billion by 2022, at a compound annual growth rate (CAGR) of 11.1%.
Managed IT solutions are outsourced IT services by a competent third-party that can provide hands-on support, monitoring, and incident resolution capabilities. When done right, managed IT services can serve as an extension of your IT team. Here, we take a closer look at four services and offerings you can look for from your managed service solutions provider.
1) Proactive IT Assessment
Before managed service providers came about, most organizations without a full-time IT maintenance staff relied on traditional break/fix methodologies to deal with the inevitable service outages. The problem with break/fix methodologies were that they relied on something breaking for you to call someone to help you out. This kind of IT support is called reactive support because it entails you only being able to react when a problem occurs.
By joining hands with a managed service provider, you switch from reactive to proactive IT monitoring. When you have access to 24x7 remote monitoring services and maintenance work, you can resolve issues before they occur. This can drastically reduce your downtime, and save you millions in service outages.
2) Clear Communication
Clear and effective communication is essential for defining your team's success. Managed service providers help you translate complex IT into actionable insights by using their expertise. Through operative collaboration and communication, MSPs can streamline your processes, dish out detailed implementation procedures, and aid with your transition into the cloud, amongst many other things.
3) Decreased Cost & SLAs
Most MSPs will give you an estimate and budget of your specific project, along with their respective delivery timelines within their SLAs. You can use these SLAs to evaluate the performance of your deliverables on a regular basis. Since most service providers offer flexible pay-as-you-go plans, they are markedly easier for enterprises to adopt, especially small and medium sized enterprises.
4) Guidance
A managed service provider's business is to help your business run smoother using IT solutions. Most MSPs have a built-in repository of trained resources that have expertise stretching across numerous domains and industries. When you partner with an MSP, you can call upon these merits of your MSP to help boost your own business. An ideal MSP partner will work to be an extension of your business sharing mutual success.
ProV is a global MSP that has garnered years of experience under its belt of providing faster response times, technology advances, and expert information management and delivery. We allow businesses to save on cost by tailoring a specific package suitable to their needs. We are an extension of your IT department without you having to deal with the hassle and upkeep of the same. To learn more about what an able managed services provider looks like, download our FREE checklist below. For anything else, drop a comment or contact us today.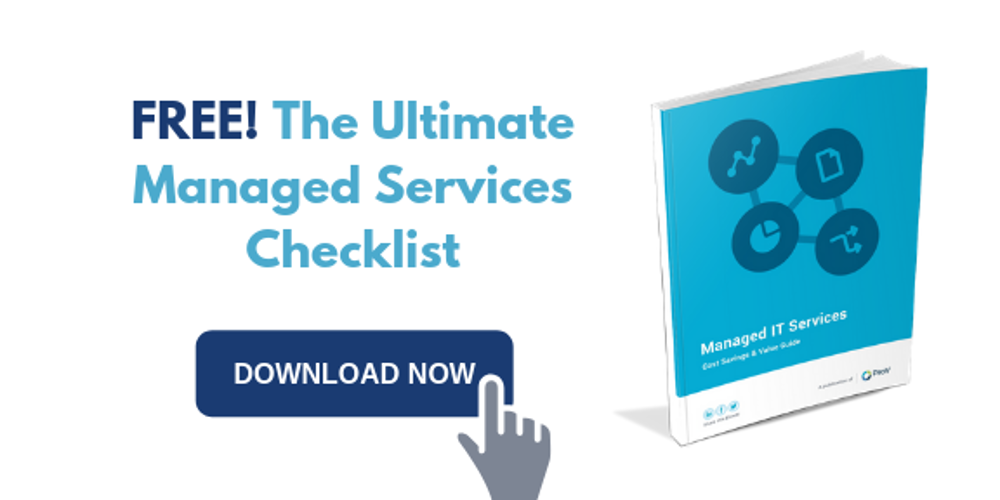 Share This Article