The managed services model refers to a model of IT outsourcing wherein you can subcontract an external service provider to handle all your IT needs. This means your responsibilities for staffing, applications, tasks and problem resolutions, basically everything your in-house IT team could do, will now be taken care of by a managed service provider (MSP).
If you've been following our blogs, you may have read our Top 7 Tips for Using Managed IT Services in 2017, where we discuss how you can get the most out of your MSP this year. We have compared the pros and cons of the "break-fix" v/s "managed it services" model to help you figure out which to choose. We've also explained what managed IT solutions actually mean.
In this particular post, we will try to discuss the checks you should perform internally within your own organization before you decide how to proceed with managed IT services.
1) Think About Your Customer
As with any strategy or idea, you are bound to encounter some pushback towards opting for a managed services model. However, if you're considerate and choose to have a discussion with your customers regarding the advantages of this model, you might find less resistance while implementing the model. By discussing the value addition aspect of managed services before implementing what sometimes may result in changes to the day-to-day affairs they are used to, you are easing your customers into the transition rather than forcing it upon them.
2) Assess Existing Technology
Building on from the previous point, a closer look at how each user is currently using IT will help you draw parallels between those configurations and the managed services you intend to use. By doing so, you can move ahead with the managed services model and be prepared for expected timelines for migration along with other points like how much training will be required to get employees up to speed.
3) Evaluate Finances Objectively
Finances are perhaps the most common consideration amongst enterprises willing to adopt managed IT services. However, it's important to remember that managed services is a long-term strategy, so you may not feel instant value in the short-term. Therefore, it's always essential to evaluate the MSP before you partner with them to ensure they will be there for you in the long run. Pushing too hard for lower prices could result in joining hands with an inexperienced provider who might not be able to deliver what you need.
4) Get Management On Board
Just as important as assessing and discussing your customer's expectations when you move to a managed services model, it's important to get your management on board before making the decision to partner with an MSP. This may not be true for some companies, but many boardrooms are disjointed at executive level decision making. The solution though, is the same as when dealing with your customers and have a sensible, logical discussion about the merits of managed IT. Remember, your managed services implementation success will require the cooperation and coherence amongst everyone in your organization including your boardroom, management, employees and customers.
5) Set Benchmarks
How do you know if your managed services implementation has been a success? Build a checklist internally after discussion of your needs with your MSP and check for their effectiveness once done. This will probably not be a one-time deal, and will keep evolving as your needs as a business does. If you have chosen the correct MSP partner, they will be with you every step of the way.
So, those were our internal checks for you to perform to assess your readiness for an MSP. To assess if your MSP is ready for you, download our FREE managed services checklist below to learn what an able service provider looks like. ProV is a global managed IT services provider that delivers robust standards to streamline your business. To learn more about how we can help you gain more ROI through managed IT, drop a comment below or contact us today.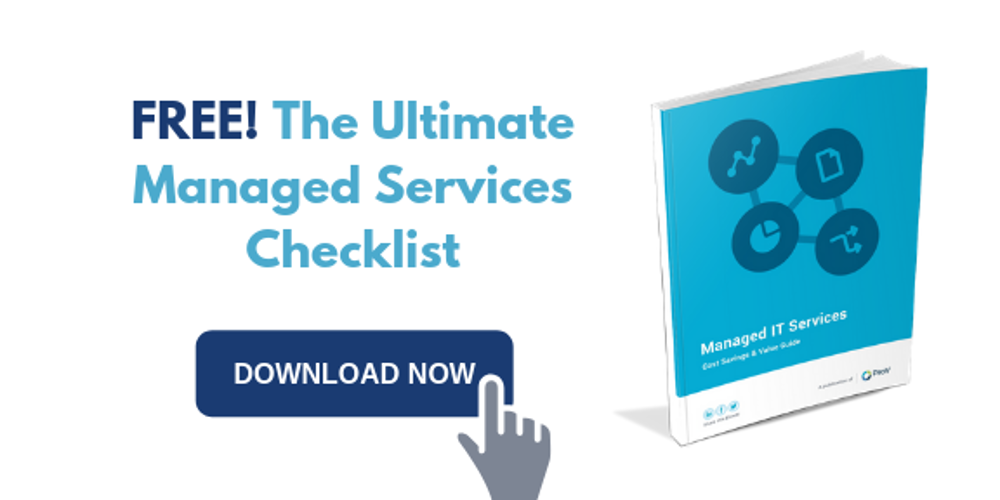 Share This Article