Managed Service Providers (MSPs) have been around for a while. However, despite some of the obvious benefits of Managed IT Services, their adoption rate has been relatively low, until now. A survey by CompTIA, an IT industry trade association, indicated that only 3 out of 10 organizations had employed an MSP to handle their IT needs.
A big reason for that is businesses aren't entirely sure about implementations. While there is a lot of information out there on managed services benefits, we still find companies wasting IT resources or using only a small percentage of its capabilities.
ProV, a global IT solutions company, provides dedicated Managed IT Services that have quicker response times, latest technology updates, as well as expert information management and delivery. Using our diverse worldwide experience as an MSP, we have put together a list of 7 important points to consider before and during managed IT services deployment.
1) Get Exactly What You Need
Numerous MSPs offer various services, so choosing the right one can be confusing. Are you looking to address specific functions like storage, desktop management, or help desk services? Do you need maintenance and upkeep for Server Hardware, OS, or Middleware? Having a clear idea of your specific requirements first helps you decide which MSP or subscription package best suits your needs.
2) Evaluate Your MSP Carefully
Once you're done evaluating your own IT requirements and what you would need from your MSP, take the time to evaluate multiple MSPs before choosing one. Do not rest on comparing cost either. Most MSPs will try to lure you using rock-bottom deals, but be sure to check on them.
Do research on their business model, how stable they are, how long they have been in the business and so on. Ask for case studies or talk to their existing clients to get a better idea of what they offer. Make sure they comply with the latest ITIL standards. An example of a reputable Managed Services provider at a global scale is IFS.
3) MSPs Are Not IT Staff Replacements
An increasing number of enterprises are turning to outside providers to meet their IT needs today. However, it's important to note that MSPs are not meant to replace your existing IT teams, but complement them. This does not mean that you're wasting resources. Employing an MSP frees up your internal IT staff to focus on more strategic projects, thereby increasing efficiency.
4) Communicate with Your Managed Service Provider
It's no good evolving from an older break-fix IT template only to fall into the trap again. Make sure you build a sustainable and proactive relationship with your Managed IT Services provider. MSPs like ProV use their expertise to evaluate your existing systems, servers, and workstations. Most MSPs offer free consultations or strategic advice that can help you plan your future IT projects more efficiently.
5) MSPs can be Your Virtual CIO
Leading MSPs use best-of-breed technologies and equipment to deliver services. They do this to stay ahead of the competition. For you, this means access to the latest developments in the IT realm. In order to take full advantage of those benefits, schedule regular meetings with your MSP. That way, you'll always be up-to-date with the current industry trends.
6) Build a Clear Data Backup and Disaster Recovery Strategy
Have you ever wondered whether you need a data backup strategy? Let's answer that with a simple yes, you do.
Regardless of how advanced your security systems are, how encrypted your files are or how secure your storage space is, at some point or another, your data will be at risk. The reasons could be anything from a human error, a machine error, a virus attack, a hacker, or even a natural disaster like a hurricane. Work with your MSP and put together a smart data backup plan along with a disaster recovery strategy. Take a step-by-step walkthrough and be sure to test the backup process and do a sample restore.
IFS Cloud works with Microsoft Azure to provide you with all the private cloud benefits and superior security protection. IFS Cloud provides data backup and disaster recovery functionalities in a cost-effective module.
7) If You've Outgrown Your MSP, Don't be Afraid to Move On
Your business model needs to be continually adaptable. Maybe the MSP that once served you well isn't capable of doing so anymore. This often happens when a company outgrows their MSP. If you find recurring problems or issues from your service provider, don't be afraid to change. A Managed IT Services provider is not a repairman but adds real value to a company and ensures its IT is aligned with business strategy.
With an experienced MSP like ProV, your business saves money and improves revenue stream through a broader quality talent pool and better insight. Our benchmarked services also deliver 24/7/365 support services, to provide you with seamless business continuity. With ProV by your side, you get a strategic and tactical extension of your IT that facilitates the repurposing of resources that would otherwise be spent putting out fires.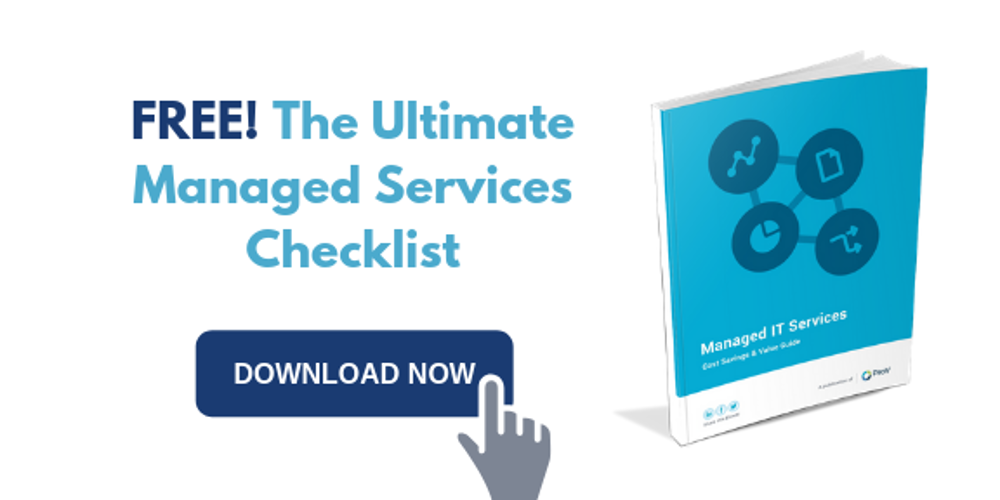 Share This Article