As a service delivery business, you know that Field Service Management (FSM) technologies are the driving force behind the industry today. It is not a question of whether you should implement an FSM solution, but rather, how efficiently you can implement it. How quickly and competently you can adopt new technologies and align them with your organizational goals will determine how satisfied your employees and customers will be.
If you are a field service business leader, or hope to become one, the following 10 things are key indicators that you should invest in an FSM solution.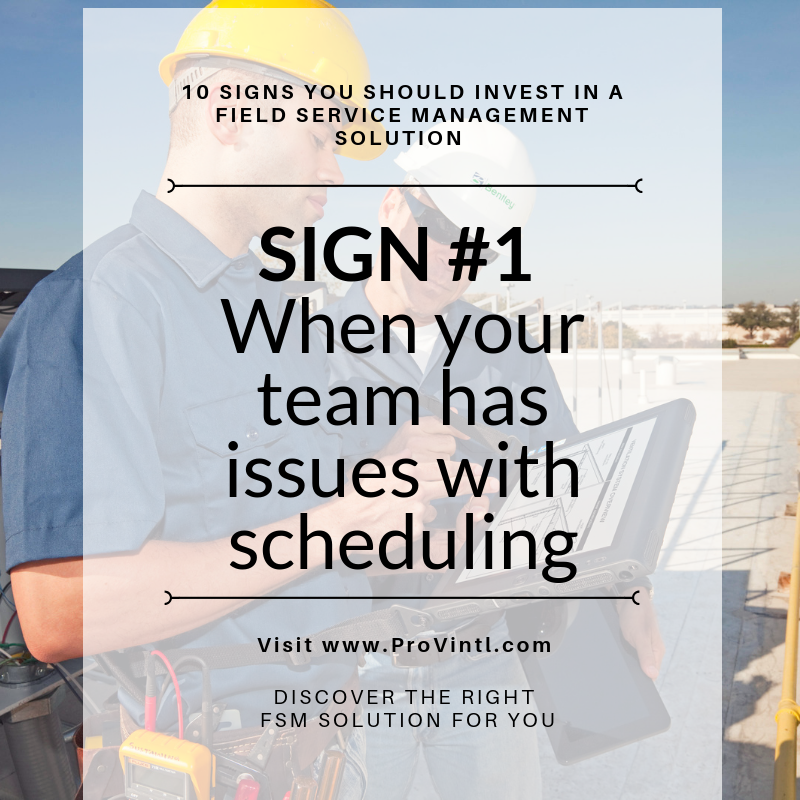 1) You Have Major Issues With Scheduling
Are you regularly missing appointments? Do you often find yourself overbooked and short of resources? If you are tired of scheduling mishaps, it might be time to invest in a new FSM solution. The best field service software come with dedicated real-time dashboards and automation, that make for better scheduling and efficiency.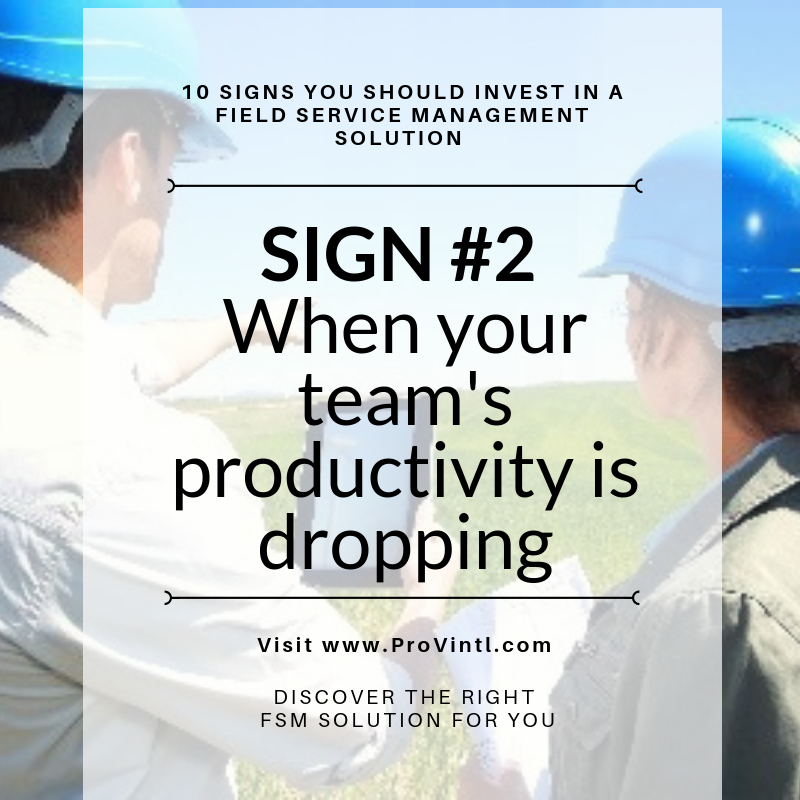 2) Your Productivity Is Dropping
Are your first-time fix rates falling? Is your team spending hours doing tedious manual data entry for each job they complete? Your field service agents need to be on the field, solving customer issues. Whatever the issue may be it will eventually show on your bottom-line. If you find your agent productivity steadily declining, it might be time to invest in a new system.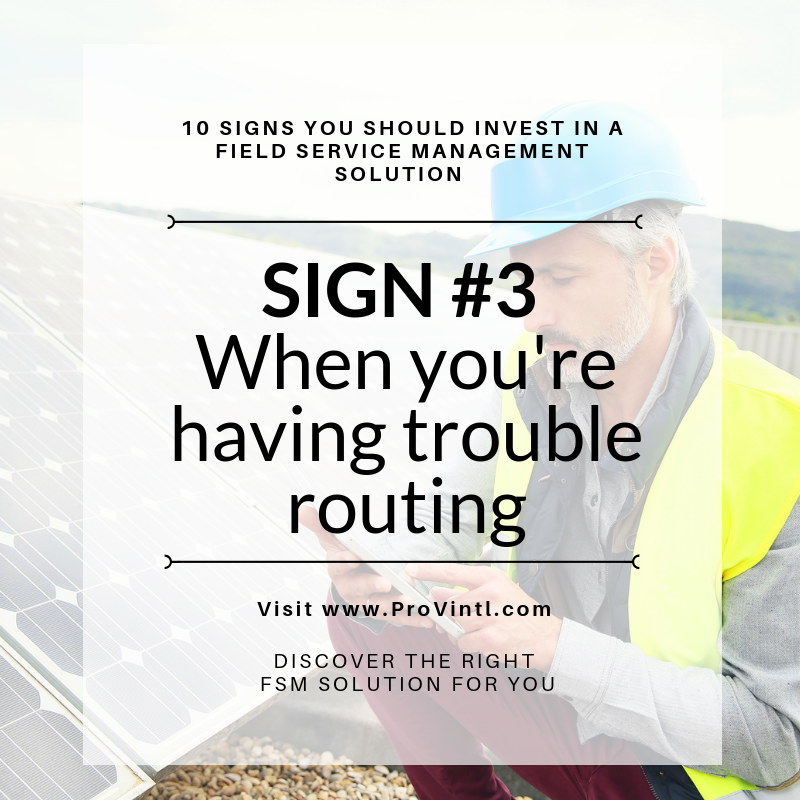 3) You Have Trouble Routing
So, you have managed to hire and train a group of talented field agents. But, you are still having issues solving customer queries. Are you sending the right person for the right job? You can't send a doctor to do a lawyer's work. If you often find yourself unable to match agent skills to the jobs at hand, it may be time to turn to a new FSM system.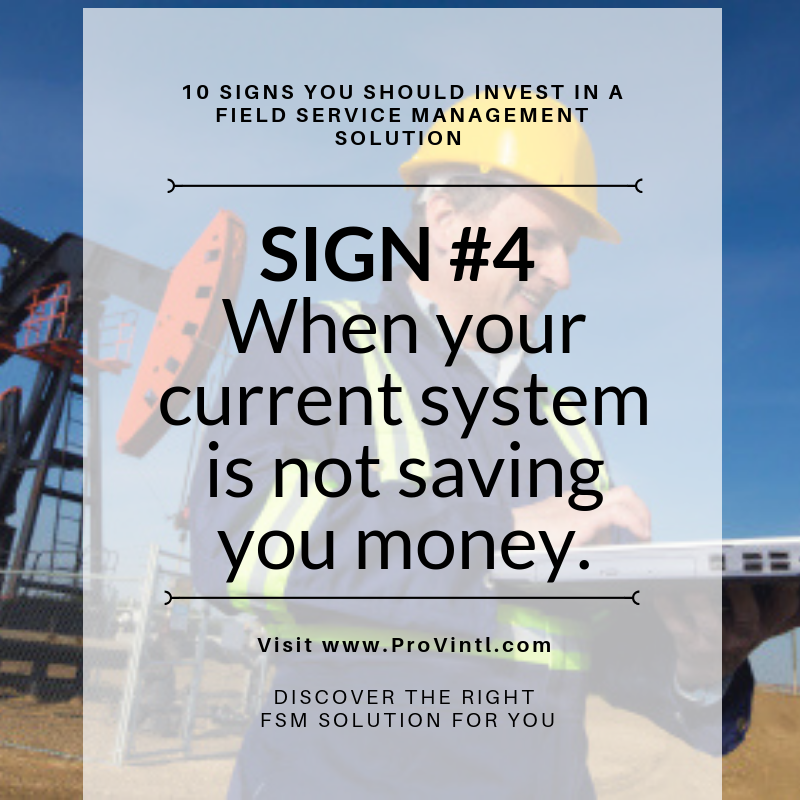 4) Your Present System Is Costing You Money
How much money are you spending on your field service operations currently? Many organizations start off with a legacy system, and keep adding separate systems for each problem that arises. This increases your operating cost exponentially. If you are not having enough ROI for your present systems, it's time to go for an all-in-one solution.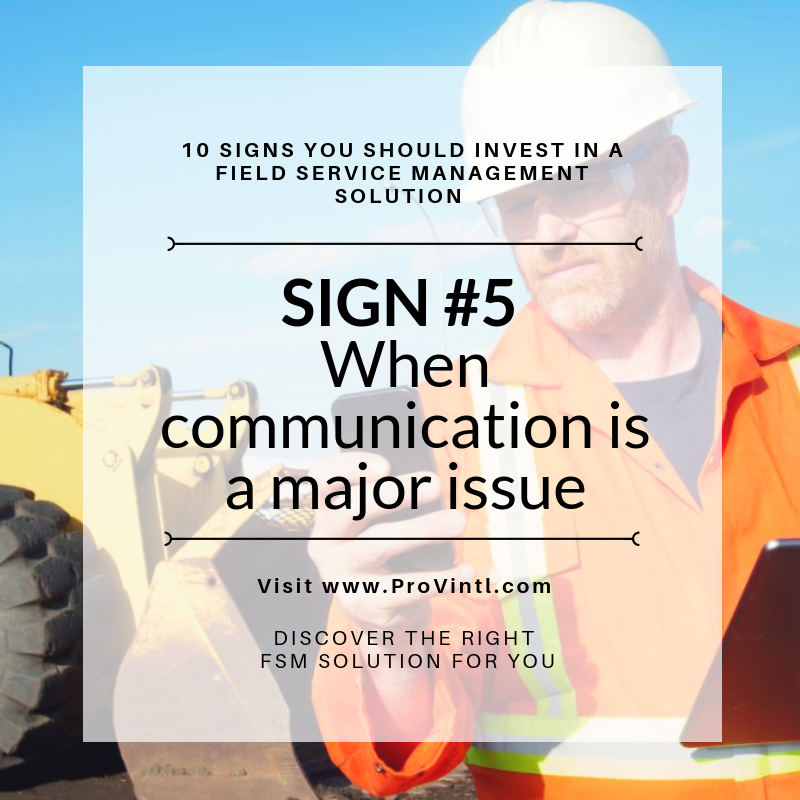 5) Communication Is A Major Issue
Improper communication leads to double-work, uninformed decisions, and ultimately a bad service experience for your customer and employee both. If your field service system cannot keep everyone in the loop, via various communication channels like email, chat, call, app, etc., you need to consider new software.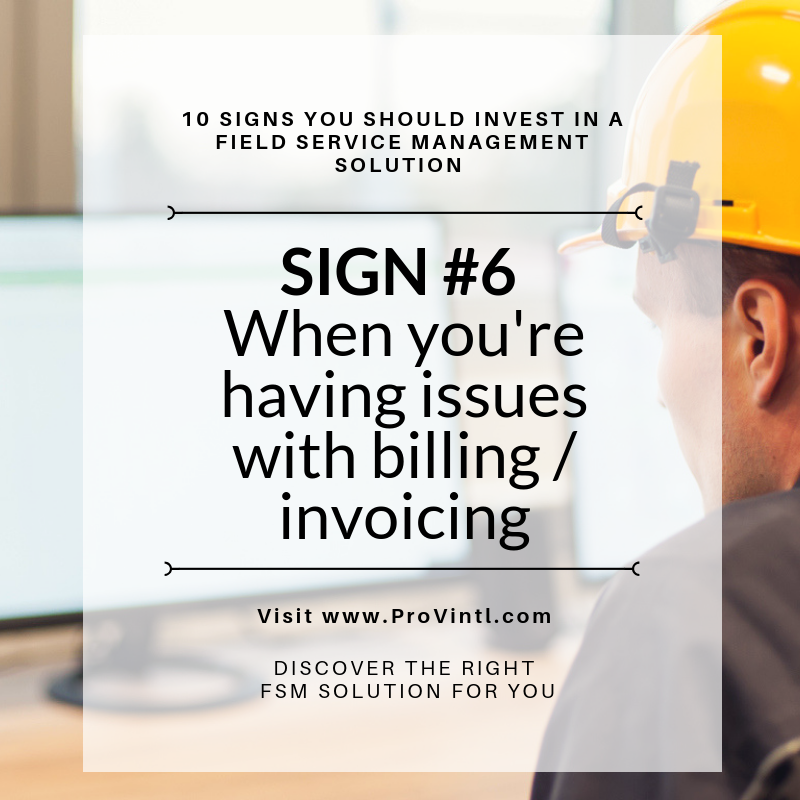 6) You Have Issues With Invoicing/ Billing
Without proper invoicing you're liable to provide your service for free. Timely invoicing with records of proper hours worked and job descriptions is pivotal for your business to run smoothly. If you can't do that with your current system, it is time for a change.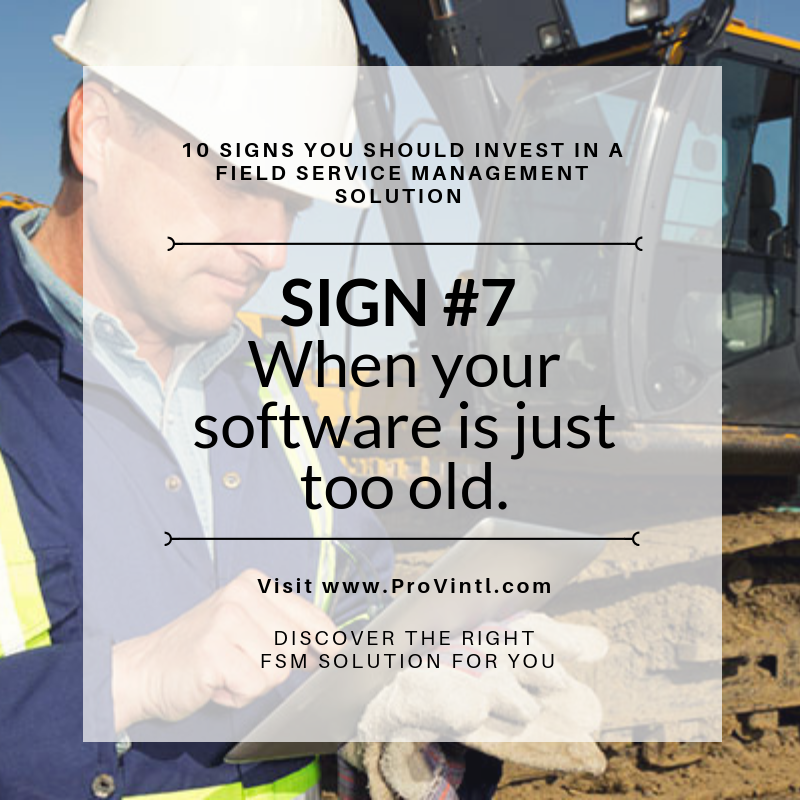 7) Your Software Does Not Incorporate Latest Technologies
Is your software cloud-based? Does it have provisions for using the Internet of Things (IoT)? Then you're missing out on genuine opportunities to gain a competitive advantage. You need to change your system to keep up with technological advancements.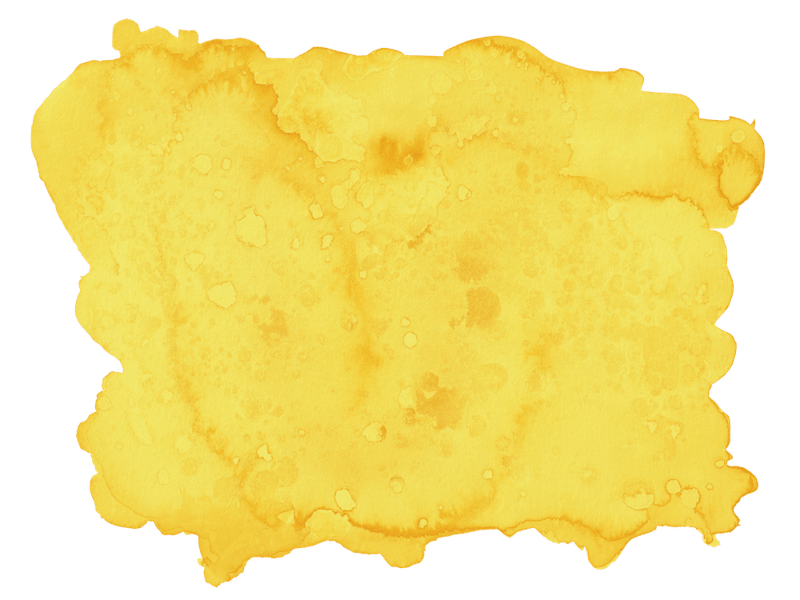 8) You Can't Track Your KPIs
How do you measure your success if you can't track your Key Performance Indicators (KPIs)? If your current system doesn't let you track and compare KPIs, you should consider moving to a solution like IFS Field Service Management (FSM). IFS FSM gives you complete visibility of your field service operations so you can keep your progress on track.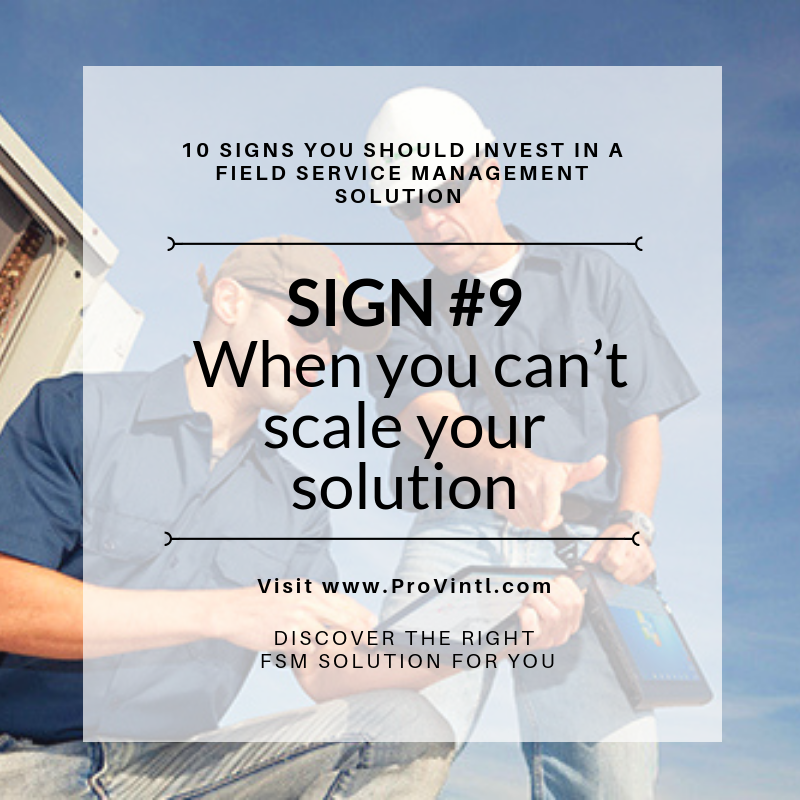 9) You Can't Scale Your Solution
When your company started, maybe you invested in a low-cost system to do the job necessary at the time. But, as you've grown, you've likely witnessed your system become unable to keep up with your growth without a massive investment of resources and money. If you find that your solution is unable to scale, it is time to jump ship to one that can.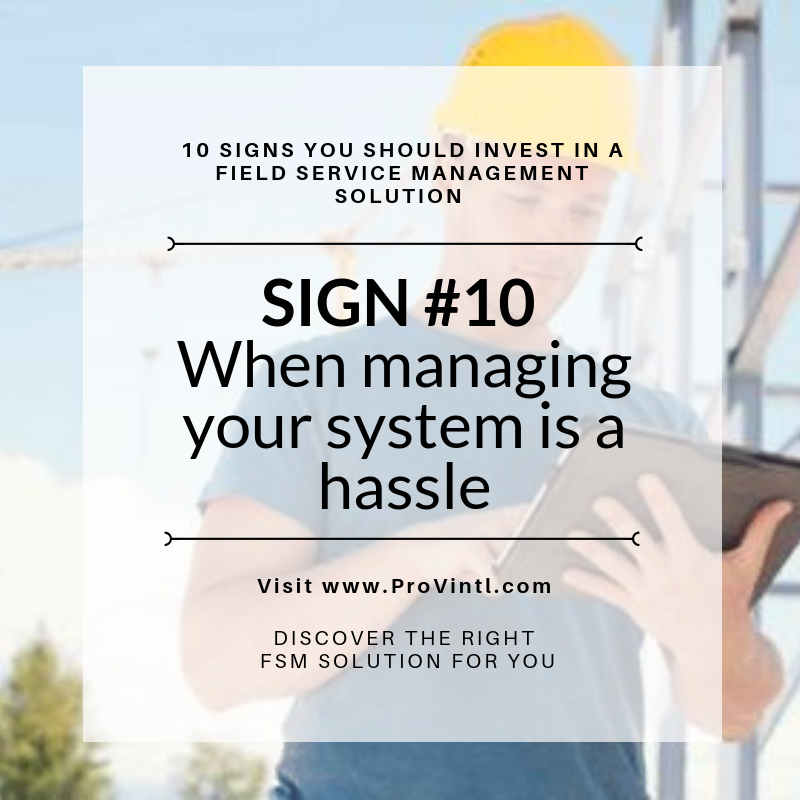 10) Managing Your System Is A Hassle
Do you find your IT teams regularly having to intervene to keep your system up and running? Are you having to dedicate too many resources that are taking away from your core business? Then, you need to invest in a new system. Partnering with a Managed Service Provider (MSP) for FSM solutions might be a good idea too. You can outsource your FSM needs, and let your teams focus on generating revenue.
If you're looking to replace or upgrade your current FSM system, give us a call. ProV's IFS Field Service Management Services, come from a multiple award-winning partner for IFS. Our global pool for FSM experts provide the correct insight to gets the most ROI out of your Field Service Management software. Our step-by-step guidance on your FSM implementation journey includes services for consulting, development, and support solutions like:
* Business Process Optimization
* Global Delivery Model
* Configurations and Customization Support
* Reporting & BI
* Integrations Support
* Application Monitoring and Global Support
* Managed Cloud Services
ProV has also custom-designed a Mobile Insights Android app that automatically pushes your FSM updates as and when released by IFS, straight from your mobile. Now available for download on the Google PlayStore.
To learn more about how ProV can digitally transform your field service organization, download our FREE FSM Transformation Case Study below. For anything else, drop a comment below, or contact us today.
Share This Article