If you haven't heard it yet, Internet of Things (IoT) is big business. Heavyweights like GE (General Electric) have invested more than $1.5 billion in IoT in 2016, while Qualcomm, the tech company most famous for providing chipsets for Apple iPhones, have invested more than $50 billion into the IoT sphere in the last 5 years. Market research firm Gartner predicts there will be 25 billion connected IoT devices by 2020.
IoT has immense potential in disrupting traditional markets and IT worldwide. Many enterprises are realizing this vision by integrating IoT into key operational strategy. However, as the IoT market keeps on innovating, organizations have to deal with challenges such as data analysis, back-end integrations, feedback and monitoring, amongst many others.
The IoT revolution is allowing enterprises to be more agile than ever by improving business outcomes. But many companies are discovering that building an IoT based solution and implementing Internet of Things has its own set of risks and challenges. Strategic IoT goals can be adversely affected due to the following pitfalls in IoT implementation. Here, we discuss what they are and how to avoid them.
1) Lack of Alignment Between Internal Business Functions
Being agile is not just limited to technology, it needs to be followed across all business processes and functions. The pressing need to meet business challenges, reduce costs, and easy deployment can often harbour misleading doubts in a cross-functional organization.
Executive management often puts the marker down on faster roll-out times. However, your IT team probably has a better idea on what the realistic goals are, especially if it's an untested product. You're better off taking a little more time to go to market to lessen your chances of a faulty end product or having to contend with a call-back. Working together with all your functional departments like IT, HR, Operations, etc. towards a synchronized goal is a good idea.
2) Not Having Specific Goals in Mind
This is one of the major pitfalls many organizations fall into is when they try to do too much at once. This is especially true of IoT implementations. IoT is still a developing technology and one of its biggest assets, which is also its handicap, lies in the fact that IoT is a very specific and targeted technology. They are not cheap either.
Therefore, for IoT projects, it is always beneficial for your organization as a whole to start small, have a ready proof-of-concept, and then look to scale. Remember, your long-term visions are just that—long-term. Even when you have grand visions for your company going global or truly disrupting the market, it is better to go for it, one step at a time.
3) Selecting the Technology Partner that Fits Best
The Internet of Things has to deal with a lot of variables. Where do you start? devices? data? platform? code? or, people? This is part of bigger planning variables like what do you need today? What will you need 2 years from now? These are issues that require advanced data analysis and expertise about the market, clients, customers, and the technology itself.
As such, partnering with the correct technology partner—one that understands your business and can customize to match your requirements—can be of massive importance. Managed service providers often have the resources, strategy, scale, and knowledge to be a catalyst for your growth, especially if you're a small or medium sized enterprise.
So, these were our most common pitfalls that companies get trapped into, when dealing with IoT implementation. We hope to have shed some light on how to avoid them.
At ProV, our goal is to simplify technology for you. We meet our clients where they are today, but equip them with tools and resources that can scale in the future. Our best-in-class worldwide service delivery methodologies and implementation practices have allowed us to build a comprehensive portfolio within our client ecosystem. To learn more about what a competent managed service provider looks like, download our FREE checklist below. For anything else, drop a comment below or contact us today.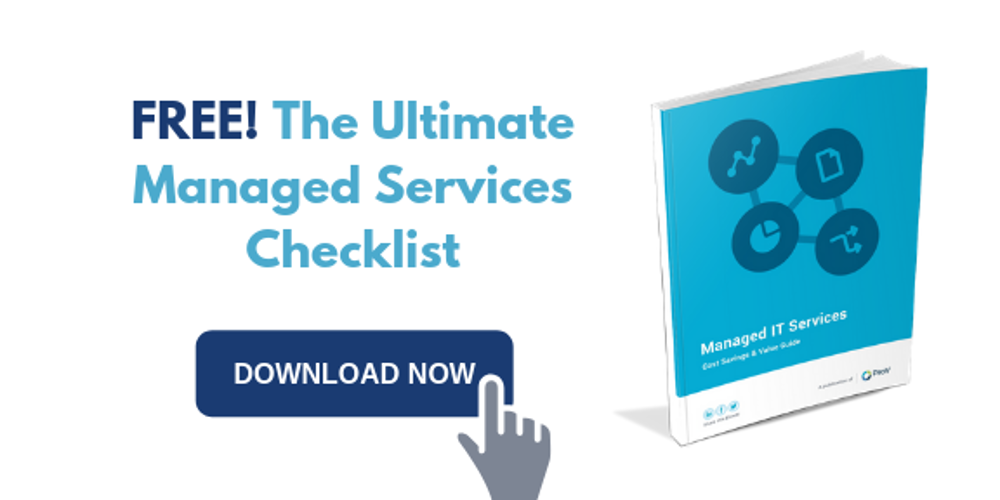 Share This Article