---
TAMPA, FL: ProV International Inc. is very pleased to introduce Sridharan Arumugam as our new President of South East Asia, with a special focus on IFS. He will be based in Malaysia and will spearhead the establishment of our office there. He brings with him over 20 years of experience working in IFS throughout the Asia Pacific region, and we cannot wait to see what he will do at ProV.
---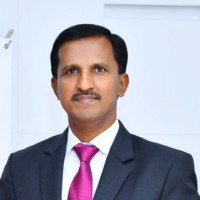 Sridharan will be responsible for growing ProV's IFS unit in the region. More specifically, he will establish ProV's direct presence closer to end customers in the region, as well as formulate and implement a strategic plan that guides the direction of the business. On this topic he said:
I am very excited to being working at ProV. ProV is on an accelerated growth path and I am confident that my experience will help take the company forward. My immediate goal for 2020 is to create brand awareness for ProV in South East Asia, as the leading consulting partner of IFS, and I hope in the process to win customer confidence, which eventually will lead to the signing of more implementation and support contracts.
Sridharan brings with him a wealth of knowledge from his 20+ years working with IFS. His involvement with customers, partners, and projects in a wide range of industries allowed him to rise to the position of Vice President of IFS Solutions Asia Pacific. We hope that we will be able to leverage this knowledge to further the growth and development of the company.
He earned his Bachelor of Engineering degree from The Putra University of Malaysia, before starting his professional career at ABB Power, a power generation company in Malaysia. He joined IFS Malaysia in 1994 as a project manager for several projects in heavy industry.
His career then took an international turn when he became a consultant on ERP projects in Australia, New Zealand, Thailand, Indonesia, and India. He later joined IFS Solutions Asia Pacific as an Industry Director in 2004. He held several management positions across the Asia Pacific before being promoted to Vice President of IFS Solutions Asia Pacific in 2009. His experience has led him to work with global companies in petrochemicals, utilities, service management, engineering, and the paper industry.
When not at work, you can find Sridharan golfing, swimming, listening to music or spending time with his family and friends.
---
About ProV
ProV International Inc. is a global IT services organization committed to providing high-end technologies to make the day-to-day of running a business easier and more cost-efficient. ProV's solutions cover a combination of onsite and offshore models supported by multiple engagement offerings. ProV is headquartered in Tampa, Florida with offices in Europe, India, the Philippines, Australia, and South America. ProV has deep expertise in Enterprise Resource Planning (ERP), ServiceNow, IFS, Field Service Management (FSM), Business Intelligence (BI), Testing, and Infrastructure.
---
Share This Article