"Managed Services" is the latest buzzword to be floating around the Information Technology (IT) domain. More specifically, the IT Support space. If you find yourself working in the domain, chances are you have come across either or all of the terms "Managed Services," "Managed IT Services" or "Managed Service Provider" at least once in the past year. So what is all the fuss about? Well, Managed IT Services, when deployed from a trusted source, provide a single point of service, lower costs and optimize productivity to offer you a peace of mind. Here's a quick glance at what Managed Services is before delving into how to use it and get the most out of your business.
What is Managed Services?
In simple terms, Managed Services allow a business to hand its IT operations by having a service provider take care of it all. This off-premise service provider is also known as a Managed Services Provider (MSP).
Why Managed Services?
As more and more enterprises jump on the Managed Services bandwagon, it is easy to gauge the benefits of managed services are manifold. Traditionally, IT related machine or network maintenance was done using only the "break-fix" methodology. This meant that when something broke, the business called a maintenance expert, and they went to, hopefully, fix the problem.
By handing IT operations over to a reliable MSP, the provider is responsible for managing, monitoring or resolving problems for selected IT systems and functions on their behalf. This allows enterprises to focus on their core business processes rather than being hindered by IT issues.
Why should you care about Managed Services?
Well-established and expanding enterprises need superior technology to compete effectively in the market. However, maintaining a large IT resource on premise to keep up with an increasingly complex IT environment is not an easy task for small businesses. They depend on a functional IT infrastructure that runs without interruptions and adjusts to their often tight budgets.
MSPs offers security, alerts, patch management, data backup along with a series of options for client devices like servers, desktops, storage systems, notebooks, networks and individual applications. Typically, MSPs have pricing options on a subscription basis. This allows businesses to save on cost and choose a package suitable to their needs. An MSP is an extension of their IT department without the hassle and upkeep of the same.
Despite MSPs being around for a long time, and some of the obvious benefits of Managed IT Services, their adoption rate has been relatively low. A survey by the IT industry trade association CompTIA indicated found that only 3 out of 10 organizations had employed an MSP to handle their IT needs. A big reason for that it is that businesses aren't entirely comfortable about its implementation. While there is a lot of information out there on managed services benefits, we still find companies wasting IT resources or using only a small percentage of its capabilities. We put together a list of 7 important items to consider before and during managed services deployment.
1) When opting for an MSP, think about your requirements first.
Numerous MSPs offer various services so choosing the right one can be confusing. Are you looking to address specific functions like storage, desktop management or help desk services? Do you need maintenance and upkeep for Server Hardware, OS or Middleware? Having a clear idea of your specific requirements first helps you decide which MSP or subscription package best suits your needs.
2) Choose your MSP carefully.
Once you're done evaluating your own IT requirements and what you would need from your MSP, take the time to evaluate multiple MSPs before choosing one. Do not rest on comparing cost either. Most MSPs will try to lure you using rock-bottom deals but be sure to check on them. Do research on their business model. How stable they are? How long they have been in the business? You could also ask for case studies or talk to their existing clients to get a better idea of what they offer. Make sure they comply with the latest ITIL standards. An example of a reputable Managed Services provider at a global scale is IFS. Both in Europe and USA, they're a trusted MSP name with years of experience under their belt.
3) MSPs are partners to your IT Staff, not replacements.
An increasing number of enterprises are turning to outside providers to meet their IT needs today. However, it is important to note that MSPs are not meant to replace your existing IT teams but complement them. This does not mean that you are wasting resources. Employing an MSP frees up your internal IT staff to focus on more strategic projects, thereby increasing efficiency.
4) Build a relationship with your MSP.
It's no good evolving from an older break-fix IT template, only to fall into the trap again. Make sure you build a sustainable and proactive relationship with your MSP. Use theor expertise to evaluate your existing systems, servers and workstations. Most MSPs offer free consultations or strategic advice that can help you plan your future IT projects more efficiently.
5) MSPs can serve as your virtual CIO.
Leading MSPs use the best-of-breed technologies and equipment to deliver services. They do this to stay ahead of the competition. To you, this means access to the latest developments in the IT realm. In order to take full advantage of those benefits, schedule regular meetings with the MSP. That way, you'll always be up-to-date with the current industry trends.
6) Work out a clear data backup and disaster recovery strategy with your MSP.
If you ever wonder if you need a data backup strategy, the answer is simple, you do! No matter how advanced your security systems are, how encrypted your files are or how secure your storage space is, at some point or another, your data will be at risk. The reasons could be anything from a human error, a machine error, a virus attack, a hacker or even a natural disaster like a hurricane. Considering how important your data is to your enterprise, you would be well advised to guard against it. Work with your MSP and put together a smart data backup plan along with a disaster recovery strategy. Go through it step-by-step and be sure to test the backup process and do a sample restore.
IFS Cloud works with Microsoft Azure to provide you with all the private cloud benefits and superior security protection. IFS Cloud provides data backup and disaster recovery functionalities in a cost-effective module.
7) If you've outgrown your MSP, don't be afraid to move on.
Much like most things in life, your business model needs to be continually adaptable. Maybe the MSP that once served you well, isn't capable of doing so anymore. This often happens when a company outgrows their MSP establishment. If you find yourself with recurring problems or issues from your service provider, don't be afraid to change. An MSP is not a repairman but it adds real value to a company and ensures its IT is aligned with their business strategy.
With the right MSP, your business saves money and improves revenue stream through a broader quality talent pool and better insight. A trusted Managed Service Provider becomes a strategic and tactical extension of your IT staff—a dedicated IT department that facilitates the repurposing of resources that would otherwise be spent putting out fires.
Download our free Managed Services Checklist to start the process with a clear understanding of what a competent MSP looks like.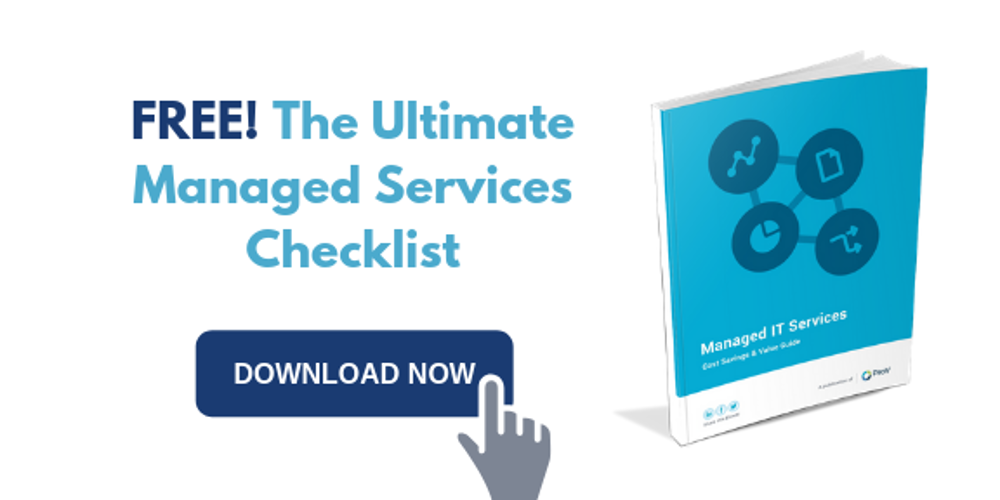 Share This Article