RPA and IFS are systems that have been created to minimize manual labor in order to help businesses save money and time that can be utilized elsewhere. Many companies are using new technology to enable them to stay relevant and compete effectively in the market.
In the world of technology, it is difficult for businesses as even one wrong step could cost them a lot of money. In order to understand the effectiveness of IFS and RPA and how they can be beneficial in a collective manner, one needs to understand their effectiveness as individual software packages.

Robotic Process Automation (RPA)
It helps companies carry out repetitive tasks in a smooth and efficient manner. Manual labor is no longer needed for functions that include calculations, keeping record of all transactions, and the attendance of employees. RPA systems can quickly help companies keep a track record of all essential information. It can create duplicate files and eliminate any chances of error, thus creating high-quality work. People tend to get tired when they are carrying out monotonous tasks every day which can increase their error rates. If the same job is assigned to an RPA system, the errors will be eliminated.

Industrial Financial Systems (IFS)

IFS is another technology suite that is being used extensively by businesses around the world. It stands for Industrial Financial Systems, and the newest application upgrade is IFS 10. It is widely known for being the best industrial cloud software, which focuses on providing features for three different areas.

1. Enterprise Resource Planning (ERP)

2. Field Service Management (FSM)

3. Enterprise Asset Management (EAM)

Both RPA and IFS are a part of the global enterprise software market that is evolving daily, and they offer practical and useful tools for companies. The applications can easily be integrated to enhance their individual capabilities and supercharge a business. Using these technologies will give employees a chance to explore themselves and the skills that they can offer. They can focus more on the higher-value tasks that are more beneficial for the business.
There are various service providers that can help businesses to access and learn how to use the IFS and RPA system in order to make their business a huge success.
The ProV Advantage
ProV International Inc. is a premier global IT consulting and service delivery organization that delivers high-quality managed IT services for clients worldwide. ProV has deep expertise in technologies like ERP software, Field Service Management (FSM), and Robotic Process Automation.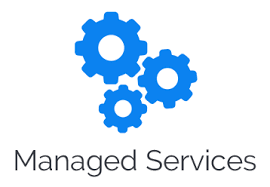 We use our global talent pool and best-in-class delivery models to streamline your business processes, and allow you to take advantage of all the latest technologies, and have a qualified group of experts on your team for a flexible fee, instantly giving you a competitive advantage. We also provide a dedicated service help desk, monitoring and alert services to maximize up-time of your computing assets, as well as devoted remote infrastructure support to ensure your 24/7/365 business continuity.
We allow businesses to save money and choose a package suitable to their needs. With ProV as your MSP, we will be an extension of your IT department without you having to deal with the hassle and upkeep of the same. Download our FREE Ultimate Managed Services Checklist below to know what an able MSP looks like. To learn more about how ProV can help drive your digital transformation, drop a comment below or contact us today.
Share This Article