The growth in mobile workforce provides a massive opportunity for Human Resources (HR) departments to improve employee productivity and employee satisfaction through mobile HR solutions or mobile HR apps. Today, there is great business value in mobile access for key management functionalities. Human Resources Mobile Applications can lessen the nagging pain of HR Management with features like employee personnel data tracking, job listing and application status check. Other functionalities include talent management, employee communications, payroll management, employee appreciation, employee benefits, leave approval and employee expense report access.
After you read this post, there will be absolutely no reason you can't increase your productivity every single day—and do it quickly. We're going to provide you with a list of 6 of the best management and HR apps to make it happen absolutely free.
Platforms Available: iPhone, Android, Blackberry
Price: Free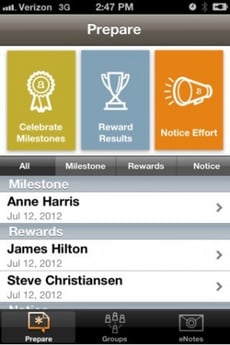 iAppreciate was developed by O.C. Tanner Co., a USD 380 million enterprise. Listed as number 61 on the 2016 list of FORTUNE 100 Best Companies to Work for, O.C. Tanner Co. helps enterprises inspire and appreciate employees. The iAppreciate appreciation app helps you concoct award presentations, direct 'thank you' messages and track key appreciation data for all the members of your team. You can also simplify the way you prepare and execute unforgettable moments using regular prompts that guide you through what to say. It will also give you tips on how to make your award presentation an unforgettable experience for your workers. Featuring tools that help you schedule group events and birthdays, 'eNotes' that boost employee confidence by appreciating their little victories.
Platforms Available: iPhone, Android
Price: Free or SaaS system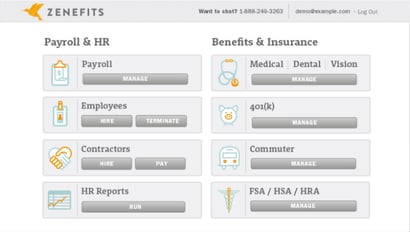 Zenefits is one of the most popular free HR systems today. It puts all the functionalities you would need out of an HR department in one mobile app. With features like onboarding to health insurance, payroll to PTO, 401(k) to FSA, Zenefits integrates all of your HR functions into a user-friendly online dashboard. This app is the ideal solution for small and mid-sized businesses with a small HR staff who needs real-time access on a regular basis. You can manage employee insurance, ACA compliance, benefits administration, employee self-service, payroll and vacation tracking through this mobile app from any location at any time. Often referred to as one of the most featured filled free HR products on the market, Zenefits delivers a really clean tool that can reduce most of your HR paperwork.
Platforms Available: iPhone, Android, Blackberry, Windows Phone
Price: Free or SaaS system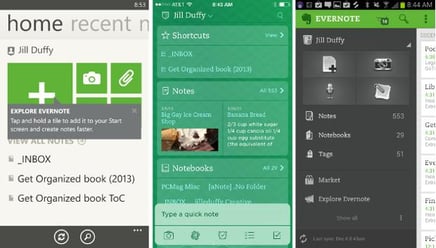 Evernote is one of those productivity apps that can do pretty much anything, but their strength is in their notes and cross-platform sync features. One of the top USPs of this product lies in its flexibility and customization of text, font size, photo notes, keywords, tags, checklists and URLs without cluttering up your text. Additional tools like the Evernote Web Clipper lets you save URLs, pictures and text from web pages using a browser extension. Add-ons from the Evernote Trunk feature tons of relevant apps that use the Evernote API to access your notebook and enhance your Evernote experience.
Platforms Available: iPhone, Android, Blackberry
Price: Free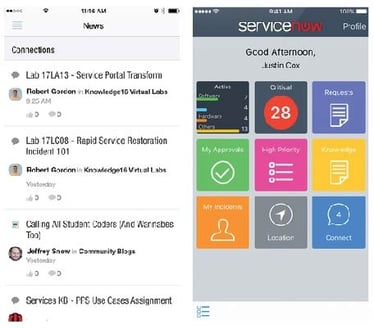 The ServiceNow mobile app provides a comprehensive range of service-oriented activities, tasks and processes that make up day-to-day work life. ServiceNow helps organizations operate faster and boost their scalability. You can define, structure and automate the flow of work using this work application. ServiceNow provides service management for every department in the enterprise including IT, human resources, facilities and field service activities. With the ServiceNow app, employees can raise issues, upload a ticket and track their query status in real-time from any location, whether they've been approved, rejected or still pending. The ServiceNow app virtually eliminates the need for emails and spreadsheets usage for employee service communication—all contact is done in real time through the app. Activity streams and push notifications give you direct access to your enterprise Service Catalogue and let you make approvals directly from your phone. What's more is they provide a 'lights-out, light-speed' experience through enterprise cloud that can manage everything as a service.
If you use the ServiceNow app, don't forget ServiceNow Community—a hub for working professionals, places and content relevant to the ServiceNow offerings. You can send and receive direct messages to anyone connected to the ServiceNow experience, upload and share videos, access bookmarks, and choose to comment, like and share content from other members of the community. You're also able to access personalized connection streams and check your inbox notifications with the ServiceNow Community mobile app. It's the perfect partner to the ServiceNow app and is also free to download on multiple platforms.
Platforms Available: iPhone, Android
Price: Free or SaaS system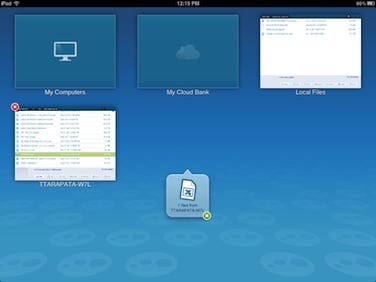 LogMeIn is a free app that lets you access and control your work or home computers remotely using your phone. This app is ideal for people who have to travel for work but still need constant access to their desktop computer information. It has saved more than one person in our office just before a presentation. The app's user-friendly UI comes with on-screen gestures to guide you along. The basic version is free, but you can upgrade to Pro for HD video and audio streaming, over-the-air printing and across devices file transfers.
Platforms Available: iPhone, Android
Price: Free or SaaS system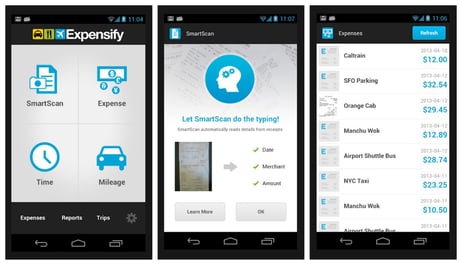 Expensify is used by over 2.5 million users and more than 300,000 companies across 169 different countries for things like employee mileage, time and other billable expenses. Expensify's intelligent automation lets you handle expenses in real time. The app has features like real-time expense reports, corporate cards, flexible travel integrations, direct deposit reimbursement, advanced approval hierarchies, candidate reimbursement, PCI-compliant security, advanced tax tracking and automatic accounting sync. It also provides support to more than 160 currencies worldwide while syncing the necessary information for international taxes.
With all this information, freebies and freemiums, mobility has become a non-negotiable aspect of the modern business environment. People work on-the-go from their smartphones or tablets, causing a boom in employee productivity. If harnessed properly, this cultural shift can be key to improve employee morale and confidence.
What other free apps do you use to help your HR processes become more productive?
Share This Article